The 2017 Music and Sound Design + Games Development 3rd Year Student Showcase (FEIT + FASS)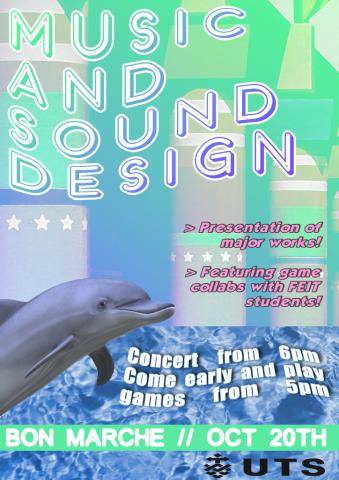 This year, for the first time ever, we joined forces with FASS in order to facilitate a multidisciplinary collaboration between 3rd year students in the BSc in Games Development and in Music and Sound Design.
The students have done an amazing job combining their areas of expertise and have created four exciting games with fantastic music and sound effects.
MSD students will be presenting a fabulous concert from 6pm, featuring sound works with a huge variety of approaches, including installations, 3D audio spatialization, live electronic and interactive performance works. This will also include excerpts from gameplay from the collaborations on Game Design Studio 2 games. 
You will also get the chance to play with the games of the GDS2 students (FEIT) and experience the customised music and sound design, which are the result of these fantastic student collaborations!
We are very excited about this event and would love you to join us!!!
Event Details
When: 
Friday, Oct 20th, 6-10 pm
Where:
UTS Bon Marche Studio (Building 3)
732/718 Harris St, Chippendale NSW 2008