William L. Raffe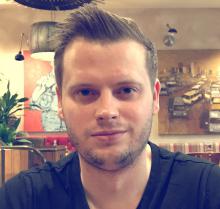 Dr William L. Raffe is a Senior Lecturer in the School of Software, Co-Director of the Games Studio research lab, Program Coordinator of the BSc. in Games Development, and a member of the Faculty Board for the Faculty of Engineering and IT. He specializes in Computational Intelligence in Games research and is more generally interested in a range of topics from the research fields of Game Design (for Health, Environment, and Education), Machine Learning, Evolutionary Computing, Mixed Reality, and Human-Computer Interaction. William created and co-organizes the UTS Autumn Games Showcase and the UTS Student Games Jam as a means to highlight the strengths of the UTS games students and engage the local game development industry. William also coordinates and lectures game design and programming subjects as part of the Bachelor of Science in Game Development.
William was awarded his PhD in Computer Science in 2014 and his Bachelor of Computer Science (Honours) in 2009, both from RMIT University in Melbourne Australia. He widely publishes in international peer reviewed venues, is on the Program Committee for many of these, and is a Co-Chair for the Interactive Entertainment conference. William has been an invited panellist at the CeBIT Business and Technology Conference and the Gaming and Recruitment Panel organized by the College of Organizational Pyschologists, and often speaks at UTS STEM outreach events, open days, and research seminars.
William has worked closely with executives and theme park managers of Village Roadshow Ltd. while he was working as a Research Fellow on an ARC Linkage Grant (LP120100743). He is a former member of the RMIT Centre for Game Design Research, the RMIT Evolutionary Computing and Machine Learning Group, and the Exertion Games Lab. He has also been a member of the Golden Key International Honours Society since 2006. Throughout his life, William has had the privilege of living in five Australian cities as well as New Zealand, the United States of America, and Singapore.
https://www.william-raffe.com/ 
https://www.uts.edu.au/staff/william.raffe