Workshop on: Agents and Models in Serious Games for Change and Social Good (IVA 2018)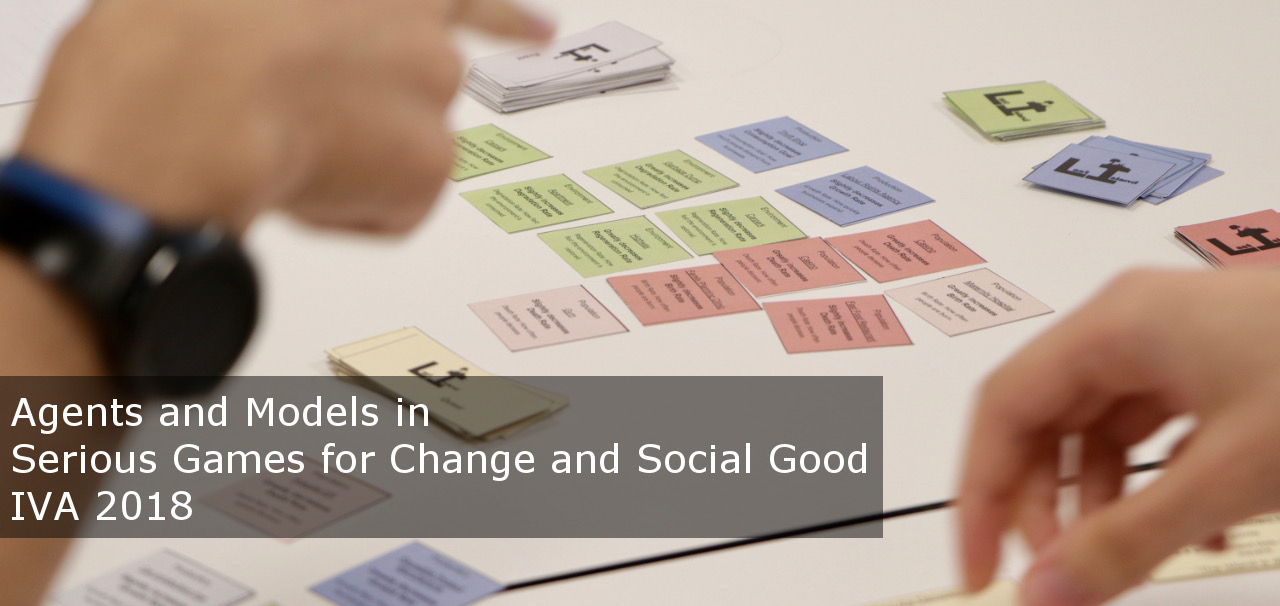 Overview:
This workshop brings together two key topics in their respective global research fields: intelligent agents and serious game design. Both are proving more important every year as means of engaging large audiences with new ways of thinking about social interaction, entertainment, culture, social policy, the environment and the way we work and learn. Bringing together the concepts, technologies, and methodologies of the two fields holds the potential to allow their combined strengths to further drive engagement, communication, and understanding between innumerable groups around the world.
Motivation:
Serious games, games for change, and games for social good are a broad genre of entertainment that connect a serious purpose to knowledge and technologies from the video game industry. These games offer an opportunity to embed a model of an existing or imagined reality in the form a system and its interaction, with the purpose of examining how players influence the model's state over time and also how the model influences a player's cognitive and behavioural state. They offer a great opportunity for participatory modelling and can also be used for crowd-sourcing the collection of information about citizen mental models and stakeholder behaviour. Agent based models can be used in serious games to produce a more believable and immersive virtual environment for players to interact within, typically leading to emergent gameplay, complex virtual ecosystems, and moral dilemmas that require the player to make decisions that affect multiple agents with potentially conflicting outcomes. That is, the players are actively participating in creating the future within the game and should be relating their strategic choices to the environments they create.
Aims:
The aim of this workshop is to discuss ways in which to engage players, both with the game and their own metacognition, through the use of persuasive agent-based models in serious games in order to affect change in the player's perceptions, values, and behaviour. This workshop has a broad target audience, including those in intelligent, believable, and persuasive agent design and development, game design researchers, and those from a wide variety of fields in which serious games could be applied.
Topics include but are not limited to:
Embedding a core message or desired behaviour change into a serious game design and its virtual agents' behaviour.
Encouraging free thinking and avoiding the game designer's bias of a topic from influencing the player.
Ensuring players are aware of and critically self-reflect on the impact of their decisions on various agent based models within the game.
Motivating continued play using virtual agent engagement in serious games that require repeated play for effective behaviour change.

Dealing with uncertainties and disparities to reality and considerations for how these may mislead people about their futures.

Managing pedagogical goals and shared human/agent goals.
Real-time adaption of virtual agents and game content for personalized approaches to persuasion.

Reactive versus proactive agents for conveying a message in a serious games context.

The effect of virtual reality on engagement of the player with virtual agents in serious games.

Validating and benchmarking the effect of a serious game with intelligent virtual agents.
Submissions:
Workshop attendees are invited to submit extended abstracts to participate in the workshop.
Contents: These should align with the motivation and aims of the workshop stated above and indicate some portion of the attendee's past, present, or planned future work. These abstracts are intended to facilitate discussion among attendees to produce a productive workshop session.
Length: 1 to 4 pages.
Format: The ACM SigConf format (Latex) or "Interim Layout" (Microsoft Word) found on the ACM Master Template page. 
Dates: 

Submission deadline: 21/09/2018 (23:59 UTC) 
Notifications: 05/10/2018  
Final submissions: 19/10/2018  
Workshop: 05/11/2018

Submission Process: Please e-mail a PDF of your submission directly to IVA2018Workshop@gamesstudio.org . 
Registration: Please see the IVA Registration page for details on attending the IVA conference and/or this workshop. Please note that the early registration period will expire before the submission deadline of this workshop.
Proceedings: Workshop abstracts will not be published in the IVA proceedings. However, the abstracts will be archived on the Games Studio website for future access and referencing. 
Copyright: Authors of workshop papers will maintain their own copyright. It is recommended that authors insert the following standard ACM statement for author owned copyright into the appropriate area of the ACM template.

Permission to make digital or hard copies of part or all of this work for personal or classroom use is granted without fee provided that copies are not made or distributed for profit or commercial advantage and that copies bear this notice and the full citation on the first page. Copyrights for third-party components of this work must be honored. For all other uses, contact the Owner/Author. Copyright is held by the owner/author(s). IVA Workshops, 2018, Sydney, Australia
Program:
The proposed workshop is for half a day.
1:30 PM - 1:40 PM

 Welcome

1:40 PM - 2:30 PM

 Invited speaker – Prof. Sisi Zlatanova
 3D City Modelling: What Models for Whom?

2:30 PM - 3:00 PM

 Prof. Tomoko Koda and Ryosuke Oguri
 Proteus Effect: Does Appearance of Slef Avata and
 Accompanying Avatar Affect User's Self-evaluation of Extraversion?

3:00 PM - 3:30 PM

 Amal Abdulrahman and Prof. Deborah Richards
 Changing Human Behaviours through Human-Agent Negotiation,
 Shared Planning and Dialogue Management

3:30 PM - 4:00 PM

 Coffee Break

4:00 PM - 4:20 PM 

 Prof. Ghassan Beydoun, Dr. Nagesh Shukla, and Kai Wu
 Agent Based Visualisation in IoT Environment: A Farming Agent Based Interface

4:20 PM - 5:00 PM

 Prof. Alexey Voinov, Dr. William Raffe, Dr. Jaime Garcia, and Firouzeh Taghikhah 
 Last Island: Exploring Transitions to Sustainable Futures through Play
Organisers:
Dr William Raffe (Main Contact)

Senior Lecturer, Faculty of Engineering and IT (FEIT) at the University of Technology Sydney (UTS)

Dr. William Raffe is a Senior Lecturer in the Faculty of Engineering and IT (FEIT) at the University of Technology Sydney (UTS). He is the Co-Director of the Games Studio research lab and the Program Coordinator of the BSc. in Games Development. Prior to joining UTS, he was a Research Fellow at RMIT University in collaboration with Village Roadshow Ltd. and funded by the Australian Research Council (ARC Linkage LP120100743). William specializes in computational intelligence in games research and is more broadly active in the research fields of applied game design (for health, environment, and education), machine learning, evolutionary computing, mixed reality, and human-computer interaction. He is a member of the IGDA Serious Games Special Interests Group and is a former member of the RMIT Centre for Game Design Research and the RMIT Evolutionary Computing and Machine Learning Group. He is a current Co-Chair of the Interactive Entertainment conference and the Finance Chair for CHI-Play in 2018.  

Email: william.raffe@uts.edu.au

Professor Alexey Voinov

Distinguished Professor, Faculty of Engineering and IT (FEIT) at the University of Technology Sydney (UTS)

Professor Alexey Voinov is a Distinguished Professor at the School of Systems, Management and Leadership at Faculty of Engineering and IT of University of Technology Sydney. He is leading the faculty Centre on Persuasive Systems for Wise Adaptive Living (PERSWADE).  Before joining UTS, Alexey was professor of Spatio-Temporal Systems Modelling for Sustainability Science at ITC, University of Twente. Prior to that he was coordinating the Chesapeake Research Consortium Community Modelling Program, and was also Principle Research Scientist at John's Hopkins University.  He has spent one year with the AAAS Science and Technology Fellowship program working with the Army Corps of Engineers. For over ten years he was with the Institute for Ecological Economics, Univ. of Maryland and Vermont. He has his MSc and PhD from Moscow State University, Russia. He is a keen advocate of stakeholder involvement in modelling and decision making.  He wrote a book on "Systems Science and Modelling for Ecological Economics" (Academic Press/Elsevier).

Email: alexey.voinov@uts.edu.au

 

Professor Ghassan Beydoun

Professor, Faculty of Engineering and IT (FEIT) at the University of Technology Sydney (UTS)

Professor Ghassan Beydoun received a degree in computer science and a PhD degree in knowledge systems from the University of New South Wales. He is currently a Professor of Information Systems at the University of Technology Sydney and Deputy Head of Systems, Management and Leadership School (research). He has authored more than 130 papers international journals and conferences. He is currently working on the metamodels for on project sponsored by Australian Research Council and Australian companies to investigate the endowing methodologies for distributed intelligent systems and supply chains with intelligence. His other research interests include multi agent systems applications, ontologies and their applications, and knowledge acquisition.

Email: ghassan.beydoun@uts.edu.au

Dr Jaime Garcia Marin

Lecturer, Faculty of Engineering and IT (FEIT) at the University of Technology Sydney (UTS)

Dr Jaime Garcia is a Lecturer in Games Development at the School of Software at the University of Technology, Sydney (UTS). His research interests lie in exploring the use of interactive video game technologies as a tool to improve physical and mental health of the elderly. Before joining UTS, Jaime worked as a Software Engineer at Neuroscience Research Australia, primarily designing, developing and maintaining fall prevention video games and mobile apps for the Falls Balance Injury Research Centre. He holds a PhD in Software Engineering and Information Systems from the Faculty of Engineering and Technology at the University of Technology Sydney (UTS) and a BSc in Computer Science and Engineering from the Pontificia Universidad Javeriana Cali (Colombia). His most relevant projects are the StepKinnection system (a bespoke Kinect game to prevent falls in the elderly) and the MobileRehApp (an Augmented Reality mobile game for ankle sprain rehabilitation). These projects have led to a series of high-quality publications in well-established international conferences and journals. He has also been awarded with the Branko Cesnik Award for the best scientific paper in 2012 and 2015. Jaime's work has been profiled in the Sydney Morning Herald, the 2SER Radio Station, the Australian Ageing Agenda, the Enquiring Minds Television Show on TVS and the UTS News Room

Email: jaime.garcia@uts.edu.au

 

 

Professor Tatiana Filatova

Professor, Faculty of Engineering and IT (FEIT) at the University of Technology Sydney (UTS)

Professor Tatiana Filatova is Professor in Computational Economic Modelling at the University of Technology Sydney. Prior to moving to Australia in September 2017, she was at the University of Twente, the Netherlands. Tatiana is a member-elect of the Young Academy of the Royal Netherlands Academy of Arts and Sciences (KNAW), of the Social Sciences Council of KNAW, and serves as the Associate Editor of Environmental Modelling & Software. Her research focuses on understanding aggregated consequences of individual decisions in complex adaptive social-environmental systems. Tatiana applies bottom-up computational methods to climate change economics (adaptation and mitigation), employing urban and regional spatial agent-based models and behavioural data collection. Her team explores regional impacts of households' behavioural changes in energy use, dynamics in climate adaptation decisions to extreme events (floods, droughts), and potential changes in system resilience. This research line is distinguished by several awards including NWO VENI grant, Best Paper awards, iEMSs Early Career Excellence Award and the ERC Starting Grant. Web: http://tatianafilatova.weebly.com/

Email: Tatiana.filatova@uts.edu.au

 
Sponsored by:
This event is organized and sponsored by:
UTS Centre on Persuasive Systems for Wise Adaptive Living (PERSWADE)