UTS Panel on Careers in Games in Australia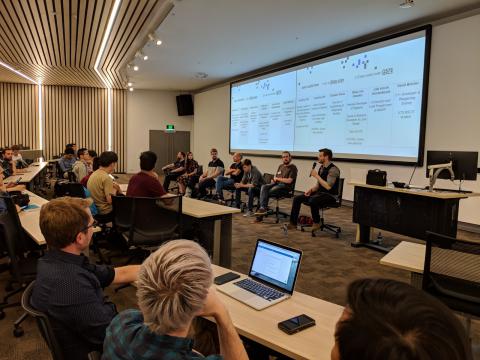 On the 15th November 2018, the Interaction Design and Games Discipline at the UTS Faculty of Engineering and IT hosted a panel of local games industry workers to share their experiences with getting into the games industry in Australia. The panel followed the Spring Prototype Exhibition and brought together a wide variety of backgrounds, including those that are studying or have recently graduated, those that have started their own company, those that have worked internationally, and those that are leader within the New South Wales game development community.
After a few questions regarding each panellist's background, questions were opened up to the audience of UTS students which ranged from the value of a university education, getting into the games industry, and being competitive as an indie developer, to more specific topics surround technologies, skills, and work processes used in the day to day job
The panellists sharing their perspective on these matters on the evening consisted of: 
Jasmina Zito - Cyber Security Analyst at Deloitte / Game Developer at Golden Age Creative / UTS BSc. Game Dev alumna

Geoffrey Hill - Chapter Leader of the International Game Developers Association Sydney / Lecturer at SAE

Joel van de Vorstenbosch - Co-founder and Lead Programmer at AltaVR

Ricky van Onselen - Internal Developer at Bigstone / Game and Systems Developer at Lusio Rehab / Tutor at UTS / UTS BSc. Game Dev alumnus

Roberto Vieira - Director of Engineering at Wargaming Sydney

David Belcher - C++ Developer at Wargaming Sydney / UTS BSc. IT student
On behalf of everyone present, the UTS Games Studio would like to sincerely thank all of our panellist for their time and valuable insight.