Industry Talk by NVIDIA: Emerging Technologies in GenAI | 2023 Tech Fest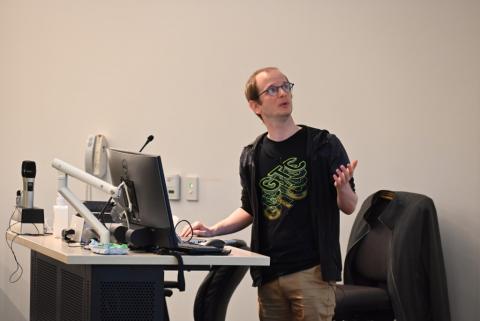 Last June, the UTS Games Studio had the opportunity to participate in the second iteration of the UTS Tech Festival, a 2-week event that aims at bringing together current students, academics, industry partners and like-minded tech enthusiasts to take part in an array of activities including hackathons, workshops, industry panels and student showcases.
This year, we joined forces with our student societies (Playmakers and the Gamers Guild) and our industry partners (from Dolby, NVIDIA) to create a unique program full of exciting and diverse game events. 
This included a master class on the latest Gen AI technologies by Dr Johan Barthelemy, one of our collaborators from NVIDIA. 
This master class had a fantastic turn out with 126 students from the Bachelor of Games Development, the UTS Animal Logic Academy and the Maters of Interaction Design. 
Thanks Dr Johan Barthelemy for the insightful talk on Generative AI and emerging technologies at NVIDIA. It was very rich session full of fantastic practical examples and real-life applications.
Dr  Johan Barthelemy:
After his PhD in Applied Mathematics at the University of Namur (Belgium), Dr. Johan Barthélemy joined the SMART Infrastructure Facility of the University of Wollongong (Australia) where he was a Lecturer and the head of the Digital Living Lab researching and developing AI and AIoT solutions for smart cities and environmental monitoring. Being passionate about applied AI and how to accelerate it with GPUs, he is now a Developer Relations Manager at NVIDIA, helping developers and scientists in their journey to build the next generation of AI-based solutions.
Click here to see more pictures of this event.