Gaming for Autism: Fundraising Event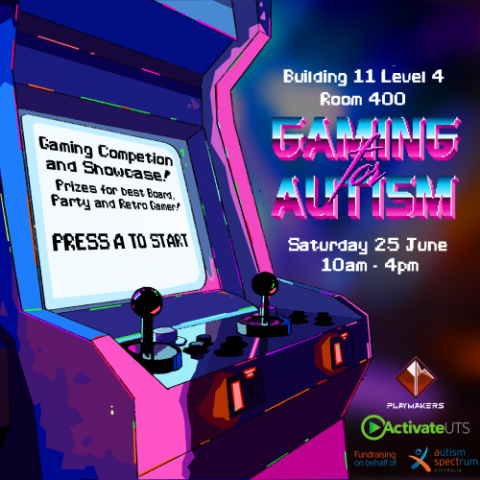 What:
In June 2022, the UTS Faculty of Engineering and Information Technology will be hosting an arcade-like gaming event for people of all ages (5-90) with the aim of raising funds to support people on the autism spectrum and their families and friends.
Autism is different for everyone. Providing the right support requires understanding individual strengths, interests and aspirations. There is no one-size fits all solution.
Details:
Dates: Saturday, 25th of June 
Location: UTS Building 11, Level 4, Room 400.
This is the primary meeting point for the digital games, with the board games being close by in the opposite facing room.
Times: The above location will be open from 10am-4pm and organizing staff will be present during these times.
Program:
10am - 11m: Opening
11am - 3pm: Games to play of all kinds (Student Games, Party Games, Board Games & Retro Games)
3pm - 4pm: Award Ceremony
Prizes:
Those who perform particularly well in the games will have their efforts rewarded with trophies. The categories are as follows:
Best Retro Gamer
Best Board Gamer
Best Party Gamer
Who is Invited:
Everyone is more than welcome to join. Just make sure you register before the event.
What to bring:
We recommend bringing a game controller if you wish to participate in some of the party games.
For the retro games and the student games, we'll provide it all.
Fees:
To play our games and participate in the various game competitions you will require a stamp card. These can be obtained by making a donation of $10, which will allow you to play the multiple games on offer.
Each stamp card will have 10 slots for stamps. Games are planned to cost 1-3 stamp slots depending on the length of the game.
Our friends from Autism Spectrum Australia (ASPECT) will be there on the day to assist with any donations. All of the proceeds will go towards supporting ASPECT and in turn our friends and families on the autistic spectrum.
Organizers: 
This event is organized by the Playmakers Student Society at UTS, the Student Engagement Team at the Faculty of Engineering in IT, and Autism Spectrum Australia (ASPECT) .
ASPECT is Australia's largest autism-specific service provider. A not-for-profit organization, they work in partnership with people of all ages on the autism spectrum and their families, providing a tailored support journey that continually adapts to the needs of each person.
Can't make it but still want to help out?
Give our Aspect fundraising page here a visit. All donations of any sizes are welcome!
Questions?
For inquiries please contact us at: jaime.garcia@uts.edu.au