Winners of the FEIT Prototype Exhibition (Spring 2021)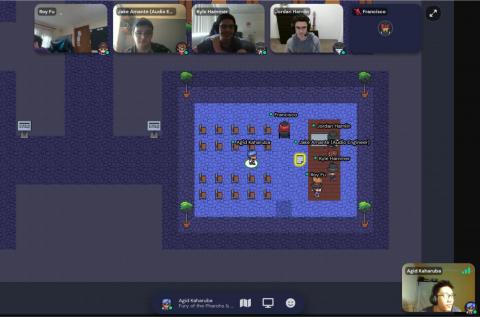 We are very excited to announce that the FEIT Prototype Exhibition was an absolute success.
Dear Friends, Students and Colleagues
We are very excited to announce that the FEIT Prototype Exhibition was an absolute success.  
The response we received from our attendees was beyond expectations.   
It was fantastic and the Gathertown environment brilliantly set up.  Thank you! 
- UTS Academic
Here are some stats from our online event too:
Stream Length: 2 hours (initially aimed for 1h)
Unique viewers: 210
Total unique registrations: 307
Peak concurrent viewers: 180
Total Students presenting their work: 107
Total Projects: 41
Total Subjects: 15
Votes for best Digital Game:  198
Votes for best Game Prototype: 55
Votes for best Digital Prototype:  161
Votes for best Physical Prototype:  65
Votes for best Research Project / HCD Study:  233
Awards
We are extremely proud of all the prototypes made by our students and shown at the event. 
To recognize their hard work and the outstanding levels of sophistication in their semester projects, five awards for the best prototypes of the evening were given away, each with prizes for every member of the winning teams. 
The Best Digital Game Award goes to:
Colosseum is a humorous multiplayer arena fighting game where you fight your friends in a gladiator arena. Play with up to 4 players in a variety of game modes to score the most points and win! Game modes include King of the Fish, The Floor is Lava, and Arena Fight.
Subject: Game Design Studio 2 (31103)
The Best Physical Prototype Award goes to:
'Afya', is a networked solution that consists of a wearable device using nanotechnology to measure blood sugar levels alongside a companion application. This helps users manage their diabetes by providing convenient access to real-time information. The app also connects users to a community of peers and experts and enables logging of meals, exercise, and medicine.
Subject: Fundamentals of Interaction Design (31260)
The Best Physical Prototype Award goes to:
Smart Scale is designed for Coffee Enthusiasts. It provides improved functionality and information compared to basic digital scales. Featuring precise measurements and the ability to monitor flow rate, SmartScale allows users replicate the perfect cup by comparing measurements with saved profiles from their history. We have created a custom PCB, Enclosure, and Android Application packed with many features.
Subject: Professional Studio B
The Best Digital Prototype Award goes to:
An app based on demand repair service. GrimRepair creates the ability for customers to get their device repaired from the comfort of their home whilst creating an opportunity for delivery drivers looking to make extra money.
Subject: Interaction Design Studio (41021)   
The Best Game Prototype Award goes to:
The project combines two types of procedural generation, one involving procedurally generated weapon stats and another involving procedurally generated loot. These two sub-systems were combined to create a multiplayer PvP game called Beer Tag, which is an oddball type game mode.
Subject: Advanced Games Programming (41024)
The Best Research Project / Human-Centred Design Project goes to:
Many individuals remember childhood through places like home or school, suggesting the potential of place in materialising childhood memories. Through a cultural probe study, insights on how places could remind adults of their childhood period were revealed, showing how place is connected to autobiographical memories of childhood. This study concluded with design ideas for memory cue systems that incorporate place to support remembering experiences of our earliest stage in life.
Subject: Human-Centred Design Methods
Special Thanks to:
All the subject coordinators that helped us find the best talents from their classes: Dr. William Raffe, Dr. Wade Marynowsky, A/Prof Tuck Wah Leong, Prof Elise van den Hoven , Dr. Marc Carmichael, A/Prof Asif Gill, Dr. Baki Kocaballi, Dr. Jaime Garcia, Dr. Sam Ferguson, A/Prof Tianqing Zhu, A/Prof Valerie Gay, Dr. Yulei Sui, Dr. Christy Liang, Dr. Alen Alempijevic.
 
Special thanks to Dr. Nico Pietroni & Dr. Baki Kocaballi for assisting with the creation of the NFT Trophies.
We would also like to thank our organising committee for their commitment and tireless efforts to make this a very successful evening.
Sarah Rodriguez, Jason Do, Dr. Baki Kocaballi, Dr. Jaime Garcia, Dr. Sam Ferguson
Without their help we would not have been able to run such an amazing event.
About the FEIT Student Prototype Exhibition
Each semester, the Faculty of Engineering and IT hosts a Student Prototype Exhibition. This event aims at celebrating students' successes and recognising outstanding work. This exhibition compiles the best student prototypes from all the project-based subjects in our faculty. This is an opportunity for the general public to come and talk to our top students and see their work in a low-pressure context.
Digital Program
In case you didn't get a chance to join the exhibition or missed out on some project presentations, here are the prototypes presented at the event:
https://www.uts.edu.au/current-students/current-students-information-faculty-engineering-and-it/prototype-exhibition-projects-2021
 
Stay Tuned for Upcoming Events!
 
FEIT T&L Engagement Team