Winners of the 2021 UTS Student Games Showcase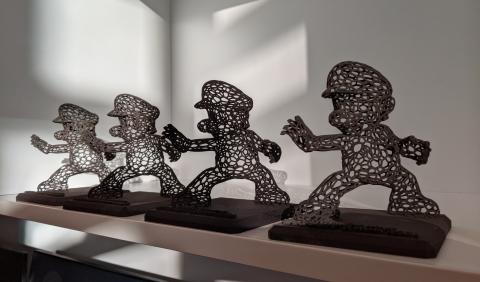 Dear Friends and Colleagues
We are very excited to announce that the Autumn 2021 UTS Student Games Showcase was a stellar success.
The response we received from our attendees was beyond expectations. 
Here are some stats from our online event:
Stream Length: 3 hours, 16 minutes
Unique viewers: 363 (Spring 2019 = 161)
Peak concurrent viewers: 161 (Spring 2019 = 70)
Total chat messages: 986 (Spring 2019 = 373)
Votes for best game in Game Design Studio 1: 222
Votes for best game in Introduction to Game Design 234
Votes for best student project in 3D Animation, Computer Graphics and Games Research Project: 156
The recording has also been viewed 117 times since the stream ended (here is the cording link: https://youtu.be/efUsMeYXadY  in case you want to watch again or missed part of it :))
AWARDS
We are extremely proud of all the games made by our students and shown at the Student Games Showcase evening. To recognize their hard work and the outstanding levels of sophistication in their semester projects, three awards for the best games of the evening were given away, each with prizes for every member of the winning teams. 
These awards were decided by impartial members of the Sydney games education, development,  and research industries as well as our colleagues and friends.
We proudly present this year's winners!
BEST GAME IN GAME DESIGN STUDIO 1
This award was for games made in the subject 31102 Game Design Studio 1 (postgraduate 42075). This is a third year, first-semester capstone subject for student in the Bachelor of Science in Games Development that pushes students to the limits of game design and development, requiring that they utilise and build upon their knowledge from the first two years of their degree while also teaching and enforcing agile project management methodologies.
AND THE WINNER IS:
THAUM
 

Trailer: https://youtu.be/8WmDBO9y9u0
Play the Game: https://saxops1.itch.io/thaum
Creators: Jake Meyer, Jonah Newton, Matthew Hillier, Matthew Lee, Rohan Chow
BEST GAMES IN INTRODUCTION TO GAME DESIGN
These awards are for the best games made in the subject 31262 Introduction to Computer Game Design (postgraduate 32004), which is a second year, first semester subject of the Bachelor of Science in Games Development as well as an open elective for undergraduates and postgraduates within the UTS Faculty of Engineering and IT.
AND THE WINNERS ARE:
VAMPIRATE
 

Trailer: https://youtu.be/StFaK6WKo8o
Play the Game: https://dr-skittles.itch.io/vampirate
Created by: Christian Burgio, Baxter Dulieu, Ethan Fitzgerald, David Schutte, Maximilian Gottardi
 
BAGUETTIN' OVER IT
 

Trailer: https://youtu.be/bWh4rMTaja4
Play the Game: https://leaire.itch.io/baguettin-over-it
Created by: Edward Chapman, Christa Zhang, Tobias Walsh, Jingwen Cao, Ching Laam Lam
BEST STUDENT PROJECT IN: GAMES RESEARCH PROJECT + 3D ANIMATION + COMPUTER GRAPHICS
This award is for the best student project from in the subjects: 3D Animation, Games Research Project and Computer Graphics.
THE DAYMARE OF TOBIAS TRUMAN
 

Watch the Clip: https://youtu.be/AClFaF3TsS4
Created by Charista Elliani Etania, Andrew Wagstaffe, Chee Peng Gan, Walter Gracia Perez
ACKNOWLEDGEMENTS
We would like to thank our generous sponsors for contributing with the prizes for the best student games awards.
Our Associate Dean (T&L) A/Prof Rob Jarman and the FEIT T&L Team for providing us with prizes for the best student projects.
The ProtoSpace Team (Jon O'Neill, Abhishek Malik), Louis Pratt and Dr Pietroni for their assistance with the 3D Printing of our one-of-a-kind Trophies.
We would also like to thank our organising committee for their commitment and tireless efforts to make this a very successful evening.
Big thanks to our final year students from the BSc in Games Development: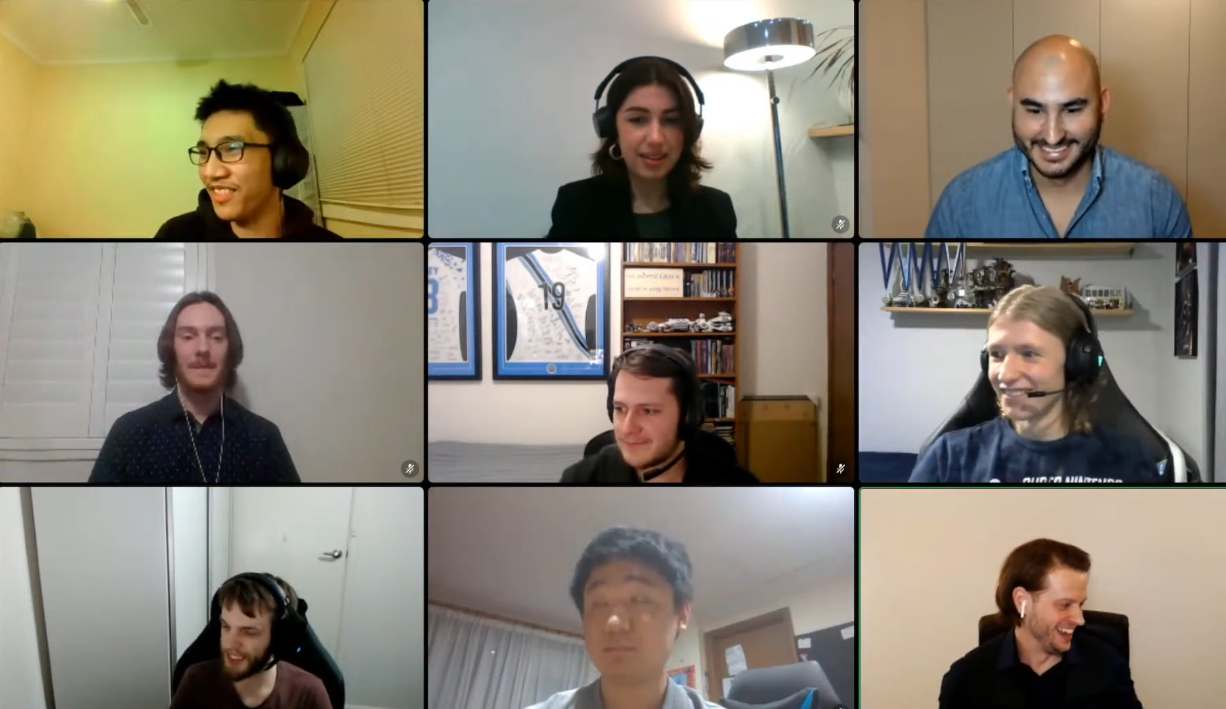 Roy Fu (Graphics Design)
Matthew Hillier & Razin Agida Kaharuba (Web Development & Voting System)
Reuben Champion (Master of Ceremonies)
Joshua Barko (Email Campaigns)
Rhys Vincent (Registration System)
Claudia Skinner & Riley Watson (Program Design)
Without their help we would not have been able to run such an amazing event.
Well...
That's all from us. Stay safe and we look forward to seeing you again at our next event.