Winners of the 2019 Autumn Prototype Exhibtion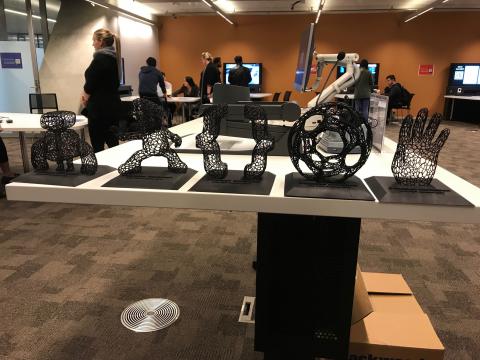 Another semester, another successful UTS FEIT Prototype Exhibition!
This exhibition saw 30 prototypes made by over 80 students from 9 different IT and engineering subjects be put on display for 4 hours on 2nd July 2019. Hundreds of guests came to UTS Building 11 to view and vote for their favorite projects, including industry and research partners, students from around the university, and families.
The participating groups were competing for the best prototype accross five categories, each with its own trophy and prize. Four of these were determined by the people, with voting open throughout the evenning, while the last was determined by a panel of academic judges.
And the winners are:

Best Interaction Design Concept
"Fit55" by The Happy Group
Karthika Devarrajah, Langtao Kang, Sant Das, Alyssa Turner, Imran Hafeez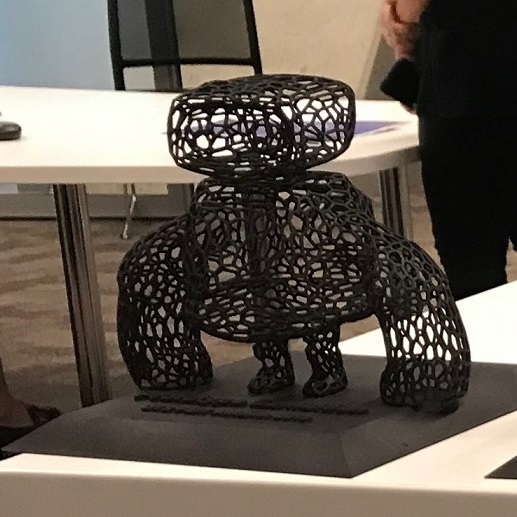 Best Physical Prototype
"SkateFX" by SkateFX
Ivan Coetzer, Sarah Merheb, Sidney Cremer, Benjamin Krajancic, Alessandra Burke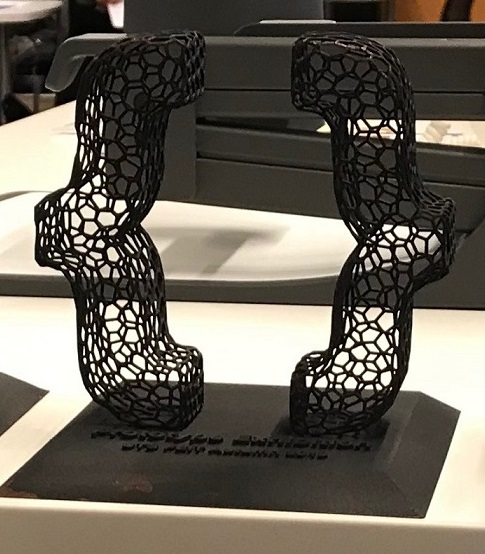 Best Software Studio Project
"UTS Discover" by AR4EVA4NOW
Valentina Antonatos, Jonathan Moallem, Garnsuda Tongtae, Jacob Vorreiter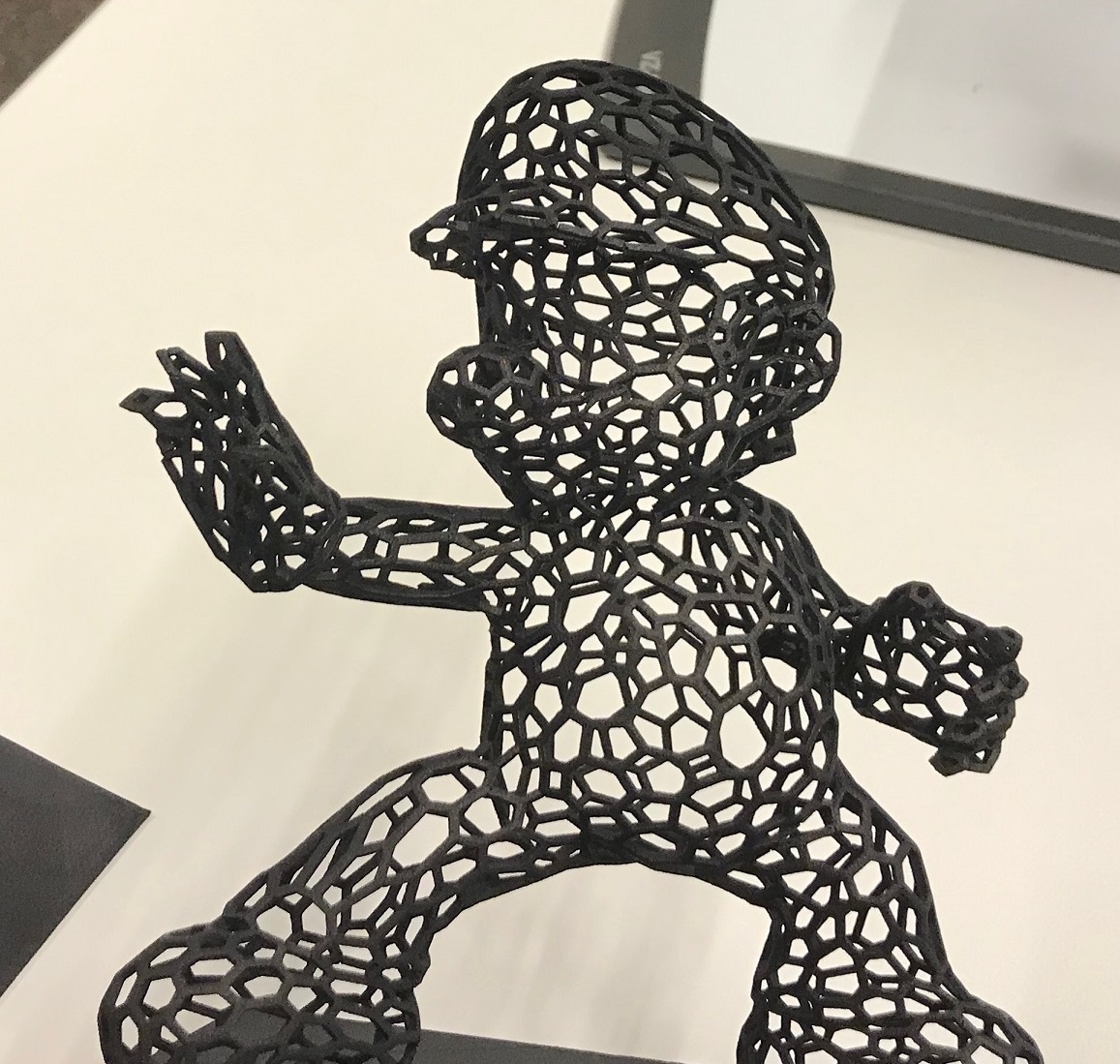 Best Game/Graphics/Animation Project
"The Black Hole"
Manish Ayani, Xuxi Chen, Ye Liu, Xiaohua Yu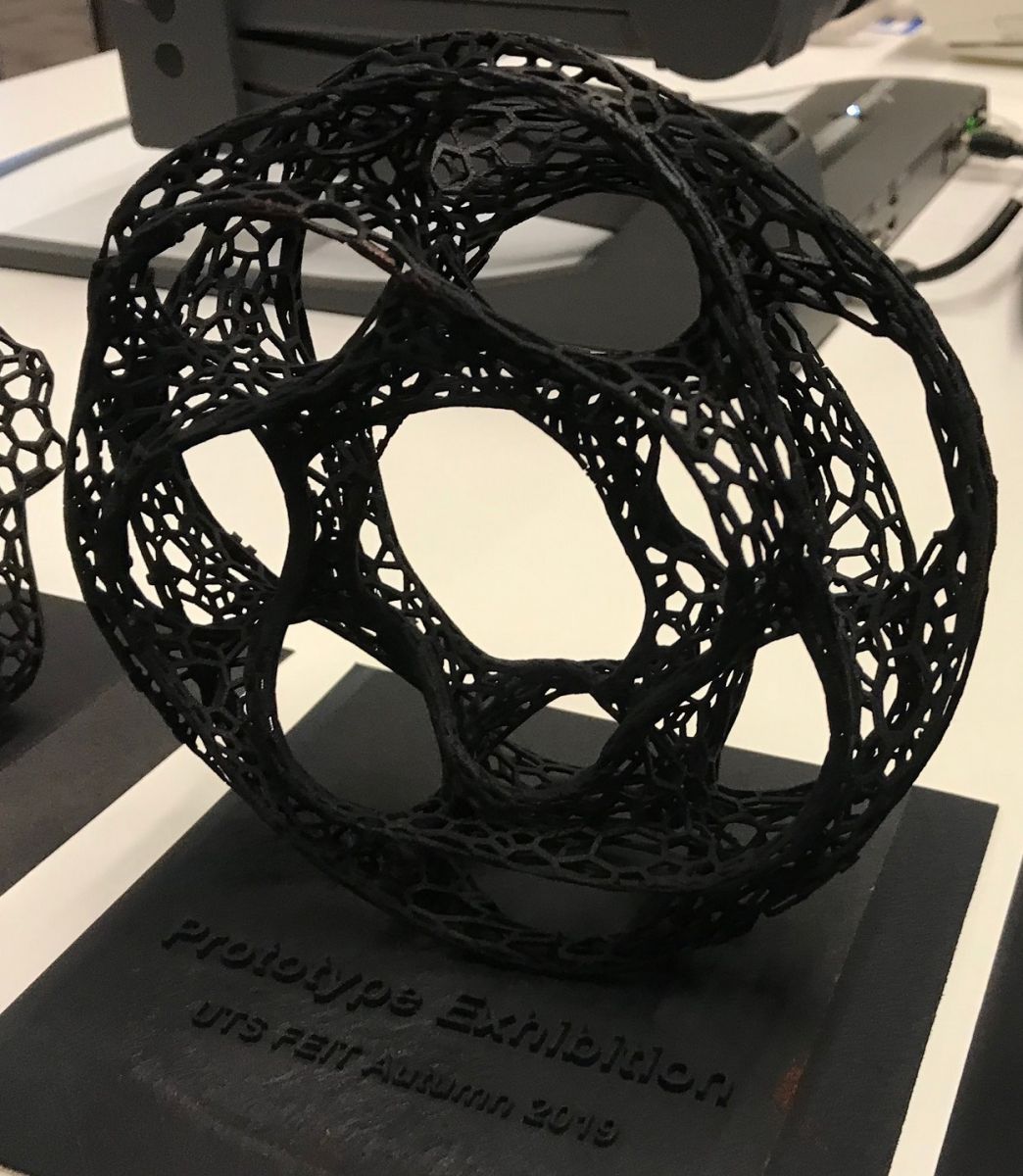 Judges Choice Award
"POMOLAMP" by The MACS
Ashwarya Lepcha, Safwat El-Hassan, Matthew Gayoso, Yanyang Li Troy
Thank you to all those who participated! It was a fantastic evenning with a lot of creativity and hard work on display.
For a full list of protjects and their descriptions, please see below.
Mitchell Galea

Andrew Schaap

Solomon Ould

Alan Luu
 Mechanical and Mechatronic Design

"Sensor Suite and Enclosure Re-Design"

by Enclosed Engineering

Our project is a re-design of a robotics sensor suite and computing enclosure primarily used for 3D perception data collection and advanced robotic algorithm testing, used by the Centre For Autonomous Systems (CAS). The design includes sensor mounting and handles, internal mounting and wiring of computing components and computing box design with included accessories. The goals of the project were high manufacturing quality, functionality, ease of use and aesthetics.

 

Rm 11.4.400,  Pod 1

 
­­­­
Ziyuan Deng
Xiyuan Guo
Charlie Yang

"Chicken Run"
by Chicken Run

Pomolamp was designed to utilise the pomodoro technique to assist students, mainly University students in improving their study habits by providing an environment that facilities maximum efficiency and productivity through the use of lighting. It has 3 "modes" or colours that indicate a particular task the student must perform. Blue light means they must decide on a task to study, white light is the study period and an orange light indicates that it is time for a break. This is repeated 3 times, followed by an extended break. After the lamp has completed its run it will switch off automatically.

 

3D Computer Animation

Rm 11.4.400,  Pod 2

 
­
Safwat El-Hassan
Ashwarya Lepcha
Matthew Gayoso
Troy Lee

"POMOLAMP"

by The MACS

How long can you hold a note? How high can your voice go? Test your vocal abilities in Audio Bird, a sound/voice controlled game designed to train your singing ability. Navigate your way through an obstacle course, with progress determined by the accuracy of your ability to match a note. Different levels provide varying levels of difficulty, and higher notes for you to match.

Interaction Design Studio

Rm 11.4.400,  Pod 3

 
­
Manish Ayani
Xuxi Chen
Ye Liu
Xiaohua Yu

"The Black Hole"

The Black Hole is a story that revolves around a UTS student, who finds a paper with Black Hole in it that gets printed from one of the printers at UTS printing room. He then discovers that it could be used to stealing things, so he steals multiple things including snacks from the vending machine and finally ends up in falling into the black hole.

3D Computer Animation

Rm 11.4.400,  Pod 4

 
Dongnan Nie
Mingqian Yang
Zheyang Zheng

"Mini Shooting Game"

By Group 1

This project is a mini shooting game based on three.js. Advanced technologies are used in this project such as physics, shaders, audio, etc. You can enjoy the music while playing the game.

 

Introduction to Computer Graphics

Rm 11.4.400,  Pod 5

 
­
Sazid Banna

"OSHC Chatbot"

OSHC Chatbot can provide information about Overseas Student Health Cover(OSHC), which is mandatory for international students in Australia. It can answer about OSHC policy-related questions, schedule fees of MBS items and fetch quote from 4 OSHC providers.

 

Capstone Project

Rm 11.4.400,  Pod 6

 
­­
Mark Scarcella

Nikita Sergeev

Christina Rita

Vincent Ngo

"imi"

by High-Fidelity

'imi' is an interface for remaining connected with those who matter. It is isolated for a specific group of people, such as family, and designed to face the challenges of older its members who might experience the inconvenience of using Facebook and other social networks. The interaction between a person and the device simplified to speech interaction (speech recognition as the input and audio and visual feedback as the output).

 

Fundamentals of Interaction Design

Rm 11.4.400,  Pod 7

 
­­­
Wasif Hossain, Joshua Keegan, Nadav Fuchs, Mikaela McNamara, David Bragg, Marlon Dennis Lamibao

"ezyDonate"

by Group 6

ezyDonate is an app that focuses on connecting a charity to you. Our application, will allow users to be able to donate to charities, attend events hosted by the charity and book one-on-one appointments with charity representatives. Charity representatives can track the donations they receive, create events for donors to attend and manage bookings made with donors.

 

Software Engineering Studio 1

Rm 11.4.400,  Pod 8

 
­­­­
Karthika Devarrajah
Sant Das
Imran Hafeez
Alyssa Turner
Langtao Kang

"Fit55"

by The Happy Group

A fitness application with integrated SmartMat. Provides exercise recommend by physiotherapist and step by step video instructions for aged people. The main features are: Voice centred interaction, Add exercises to your routine and ability to send SMS updates to your loved ones.

 

Fundamentals of Interaction Design

Rm 11.4.400,  Pod 9

 
­­­
Kale Johns
Vito Colavito
Akash Moana-Singh
Ryan Ahadizad

"Hotdog Hotties"

by Team Epic

Dario and Duigi are two brothers with a very VERY successful hotdog business. So successful in fact that customers flock in from everywhere trying to obtain your goods, even if it means killing the Hotdog Boys themselves. Fight against waves of enemies with food based weaponry whilst trying to get your hotdog truck through the single road to the safe zone.

Game Design Studio 1

Rm 11.4.400,  Pod 10

 
­­­­
Peiming Lin
Dingding Zhou
Jianan Wu
Huaxuan Lin

"Wandering Jack"

by TEAM 404

Wandering Jack is a cute 2D platform, action-adventure game based on a space background. Jump to other planets, avoid all the dangers in space, collect the pieces, fix the spaceship and be the winner.

Game Design Studio 1

Rm 11.4.400,  Pod 11

 
­­­
Geojo Jacob George
Mayank Chhabra
Varshitha Marni
Muhammed Fawaz
Shweta Sangwan

"Astra Frame - Digital Scrapbook"

by Team Astra

Astra frame is a device that helps elders to relive memories of their loved ones by encouraging them to create scrapbooks for family and friends and thereby sharing among them. As such, this ICT enabled device supports active ageing by creating an effective medium to connect elders with their closed ones in an easy and efficient way. Elders can create digital scrapbook by scanning old printed photos using pen scanner, designing collages, adding hand-written comments, recording voice messages, adding various other elements and printing scrapbooks using inbuilt printer. Thus, these shared and cherished moments can facilitate strong connections among elders and their closed ones.

 

Fundamentals of Interaction Design Rm 11.4.400,  Pod 12

 
­
Sidney Cremer
Ivan Coetzer
Sarah Merheb
Benjamin Krajancic
Alessandra Burke

"SkateFX"
by SkateFX

A skateboard mounted device that uses a strip of LEDs to provide feedback, visual aesthetics, and further expression to skateboarders. It responds to tricks performed for points or can be adjusted to add to the performative aspect of skateboarding and uses in photography and videography. It can be used to both help new skaters nail a new trick, or extend an experienced skaters performance into their physical environment.

 

Prototyping Physical Interaction

Rm 11.4.400,  Pod 13

 
­­­­
Jordan Hamlin
Dale Grant
Oleh Rybak
Edward Su

"Interactive Solar System"
by Group 17

Our project allows users to interact with a randomly generated solar system, populated by ringed planets, stars, moons and their orbits. The system is generated and rendered with the three.js javascript library, allowing it to be viewed and interacted with from within an internet browser. Users can interact with various elements of the solar system, including the lighting and the number of stars and planets.

 

Introduction to Computer Graphics

Rm 11.4.400,  Pod 14

 
Ryan Barraga
Leon Cho
Richard Christiansen
Razin Khan

"PixelMix Memory Game"
by PixelMix

The PixelMix Memory Game aims to challenge your memory in a fun, physical and interactive way! Users interact with the 4x4 RGB LEB grid to progress through the game, simply replicate each button sequence in each round and try to rack up your score!
Be careful though, as each level becomes more and more difficult than the last, try to get up to the final 9th level which is impossibly fast and has endless rounds!

 

Prototyping Physical Interaction

Rm 11.4.300,  Pod 15

 
­
Jackson Halim
Andri Bong

"The Cane"

by Unknown

"The Cane" is a smart walking stick that will help elders to achieve ageing well by providing some simple features yet essential. The idea is, combining conventional walking stick with technologies (SOS button, electrodes [For electrocardiogram], Pepper spray [For safety purpose]). This stick is also inter-connected to smart devices (ie. iPhone, iPad, Android) through Bluetooth to gather information. This features will help elders to improve their healthiness and security.

 

 

Fundamentals of Interaction Design Rm 11.4.300,  Pod 16

 
­­­­
Jacob Moses

Ashwin Pokharel

Sebastian Southern

Bilal Naseer

Jake Roeleven

"Voluntime"

by SES1A Group 7

Voluntime is a mobile application designed to connect volunteers with charities so that they can donate their time to help people. It has been developed to make it as easy as possible for users to sign up for events run by charities and "support something greater than themselves". It also allows charities to easily create and manage their events within the app so that they can advertise to the many registered volunteers on Voluntime.

 

Software Engineering Studio 1

Rm 11.4.300,  Pod 17

 
­
Aryeh Zinn
Robert Romano
Sean Simon
Dominic Kihas

"SPECK"

by Null Reference

Humans are curious creatures. They stubbornly probe the endless depths of the cosmos, searching for some meaning in the black void. Now, in the blackness of space, a lonely astronaut will find a small clue to what lies in the far reaches of space. The answer is far more horrifying than they could have ever imagined.

 

 

3D Computer Animation

Rm 11.4.300,  Pod 18

 
­­­­
Hayden Crain, Sebastian Guillema, Xiangsheng Zeng, Hari Bhandari, Abdur Rahman Murad, Matthew Mac, Adib Khan, Andre Pagala, Nameer Abdullah Shams, Nicholas Tsom

"UTS HELPS Booking System Rebuild"

The HELPS Booking System is an online web application that allows UTS students to easily access and apply for UTS HELPS education workshops and services. Our team was tasked with rebuilding and improving the current system, incorporating current best practices and technologies used within the web development industry. We are now at the halfway point of this yearlong project, with our prototype demonstrating the work we have achieved during the Autumn semester.

 

Software Engineering Studio 2

Rm 11.4.300,  Pod 19

 
­­
Jacob Vorreiter
Valentina Antonatos
Garnsuda Tongtae
Jonathan Moallem

"UTS Discover"

by AR4EVA4NOW

UTS Discover is an augmented reality (AR) experience for mobile devices that aims to promote the UTS Faculty of Engineering and IT (FEIT) to prospective international students. The AR4EVA4NOW team built the application in the UTS Software Studio as a real, client-driven project for the FEIT, utilising agile development practises. The app, built in Unity, uses AR target-recognition to display video content and 3D models, as well as gyroscopic data to deliver a 360 image tour of UTS campus.

 

Software Development Studio 1

Rm 11.4.300,  Pod 20

 
Le Cai
Wenze Jiang

"Warship Builder"

Program design for user to design their ship, and view the vessel after they finish building the warship

 

 

Introduction to Computer Graphics

Rm 11.4.300,  Pod 21

 
­­
Valentina Antonatos
Patrichia Meleka
Jaiden Chicote
Idris Gaist-Lloyd
Jerome Mariano
Damian Russo

"Findi"

by ChangeLater

Findi is a tracker aimed at the elderly, ensuring their safety in the event where they are lost or in the case of health-related emergencies. The watch is accompanied by an app where users check on elders' details whether it is their location or health statistics. The watch allows elders to navigate back home through a map or through calling their nominated individual. Ultimately, Findi's goal is to ensure the elderly's independence as well as safety.

 

Funddamentals of Interaction Design

Rm 11.4.300,  Pod 22

 
­­­
Lachlan Christophers
Luke Galic
Adib Khan
Jonothan Wu
Wenting Xie

"Maka"

by Wildcats

Maka is a simplistic media sharing device aimed to allow elders and those who struggle with technology to effortlessly share photos with friends and family, as well as easily receiving media in one connected place. The device also acts as a calendar, reminder list, or digitial photo frame when not in use.

 

Fundamentals of Interaction Design

Rm 11.4.300,  Pod 23

 
­­
Roald Braathen

Aaron Reyes

Luke Riley

Zac Casimatis

"Lost Relics"

by LAZR

This project is a first person dungeon exploration game; your goal is to search for Zaldor's Lost treasures. Avoid monsters and solve puzzles, it is up to you to find the lost Relics hidden away at the end of each level. This project was created for Games Design Studio 1.

 

Game Design Studio 1

Rm 11.4.300,  Pod 24

 
Tianxiang Miao

James Hartman

Alex De Martin

Qianning Gong

Interaction Design Studio

Rm 11.4.300,  Pod 25

"Peerformance"

by Team CoolCool 

Peerformance is a group collaboration tool for automatically monitoring the contribution of team members working on a shared document. It monitors word count contribution and time spent actively working on Google documents, ensuring that team members are fairly contributing to group tasks. Additionally, it identifies those who are underperforming or failing to contribute all together by scoring them and notifying fellow team members.
Christine Vinaviles
Carol Alex
Henry McGargill
Benjamin Cobb
Guy Swift

Fundamentals of Interaction Design

Rm 11.4.300,  Pod 26

"F|tStretch"

by PEGS

A Fitness App and Resistance Band with Bluetooth capabilities, which allows for exercise tracking and logging when paired with the app. The user-friendly app and device will hopefully instil healthy habits and active ageing, allowing the user to perform various exercises in the comfort of their own home. The elasticity of the band can be modified depending on the selected setting for the exercise and provides the user a selection of exercises of varying intensities.
Veronica Sue
Caleb O'Reilly
Anthony Nguyen
Sam Alexandropolous

Game Design Studio 1

Rm 11.4.300,  Pod 27

"Hatchcraft"

by Doge Team

A frantically fun 4-person party game where players race to hatch their own pet, using its unique abilities to outwit and outmanouvre their friends. Players collect gems from around the map, but true contention comes from stealing the gems of your rivals! Whoever holds the most gems at the end of the round is victorious. Friendships will be tested, but to make an omelette you've got to break some eggs... just make sure its not one of yours! Hatch your plan and make it crafty, cracking under pressure is seriously faux pas...
Pavlos Hanna
Ben Simson

Mechanical and Mechatronic Design

Rm 11.4.300,  Pod 28

"Design & Implementation of Coil Winder Device"

by M&M Designs

UTS:CAS uses Pulsed Eddy Current (PEC) sensors for corrosion detection in water pipes as part of a partnership with Sydney Water. These sensors require elliptically shaped coils to be wound from copper wire, which is done in-house. The existing prototype producing these coils requires too much user involvement and setup time. The prototype needed to be revised to reduce worker dependency and provide an improvement to the efficiency of coil manufacture for the engineers at UTS:CAS.
Aryeh Zinn
Robert Romano
Sean Simon
Alex Leydon

Game Design Studio 1

Rm 11.4.300,  Pod 29

"Hyperpocalypse"

by Null Reference

Hyperpocalypse is a Lovecraftian chase across the vast reaches of the universe. Dash, dodge, and dive across the cosmos as you avoid a horrifying inter-dimensional monster whose hot on your tail. Will you survive the beast's onslaught? Or will you disappear like all those before you? Either way, the universe is a large place, and you certainly won't be missed.

 
Joshua Zerafa

Alberto Valentinuzzi

Preema Rahman

Christina Rita

Philip Siu

Prototyping Physical Interaction

Rm 11.4.300,  Pod 30

"The Singing Plant"

by Mount Franklin

The Singing Plant is an indoor plant that responds to changes in it's environment by producing music. The plant responds to wind, light and water to create different musical outputs that can be manipulated by any user whilst caring for the plant.