UTS Tech Festival: Student Games Showcase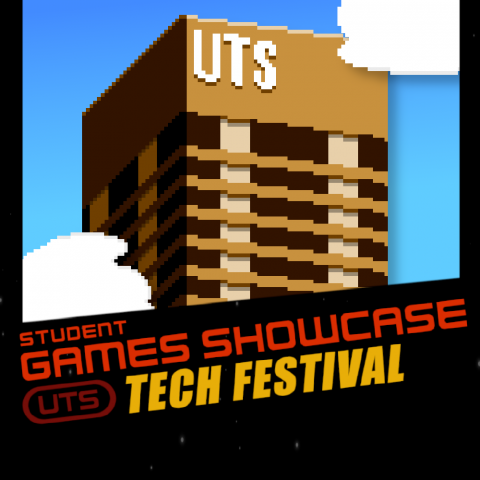 We are pleased to invite you to the annual UTS Autumn Student Games Showcase.
It is a chance to celebrate our students' accomplishments this semester and show-off their skills as game designers/developers to a wider audience.
Join us for an evening of playing games made by UTS students at various stages of their study, networking with industry and research partners, and enjoying free food, and prizes!
The details of the event are as follows:
What:
40+ Amazingly Designed Student Video Games and Board Games
When:
Wednesday, June 29th 2022 from 3:00pm-6:00pm
Where:
UTS Building 11, Level 4, Room 400
Who:
Sydney Game Development Community
Industry Partners
Research Partners
All UTS students
Friends and Family
Games: Top Rated Projects from:
Introduction to Computer Game Design: This second year core BSc. Games Development subject introduces basic iterative design methodologies, playtesting practices, and game design theory through hands-on projects that emphasize rapid prototyping and kit-bashing to produce proof of concept games
Game Design Studio 1: Our third year capstone subject for the BSc. in Games Development that teaches our students how to design, develop and implement a game based on client specifications. They examine the game mechanics for multiple indie and experimental games in developing their own game mechanics
Games and Graphics Project: This course exposes our students to working on a research project in the broad fields of games or computer graphics. They experience working independently on an authentic project with a focus on innovation and knowledge discovery in digital media design and development.
3D Computer Animation: This subject covers the major areas of 3D computer animation. It provides students with the opportunity to learn a major commercial 3D modelling, animation and rendering package. It also covers the principles and practice of pre-production planning, production management, and post-production of an animation project.
Computer Graphics: This subject helps students develop problem-solving and communication skills in the context of computer graphics, including shape representation, manipulation and visualisation. It helps students enhance their skills to design and implement three-dimensional (3D) computer images, such as those used in animated films, virtual reality (VR), data visualisation and computer games.
Prizes:
Prizes for the best game in each subject will be awarded.
Come and help us judge the winners!!
Hosted by:
UTS Games Studio
Supported by:
Playmakers Student Society
Sponsored by:
UTS Faculty of Engineering and IT
Graphic Desing by: