A Student's Game Development Journey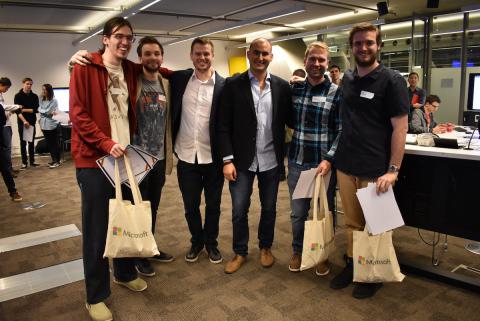 Four BSc. Game Dev students (Matthew Andrews, Adam Bursill, Philip Aubert, and Sebastian Du Toit) have been invited to present at the Sydney Game Engine Developers group on Meetup.com.
This group of students won both the Best Game Award (GDS1) and the People's Choice Award at the recent Student Games Showcase.
 
The organizers of this MeetUp group, who are also higher management at the Wargaming (known for World of Tanks/Warplanes/Warships) studio in Sydney, were at the showcase and were so impressed with the quality of the games on show, and in particular the award winners, that they extended the invitation to present.
This is a fantastic opportunity to engage with the wider Sydney games dev community and one of many great outcomes from the showcase.
 
If you would like to attend, you can find details and signup at:
https://www.meetup.com/Sydney-Game-Engine-Developers/events/252354216/
You Reap what you Sow - A Student's Game Development Journey
Developing video games is a struggle, especially when you're a team of four students making a fully realised 3D puzzle platformer over a period of 8 weeks. Learn about the roles, processes, tools, testing practises, work structure, and problems that students currently face in the game development process. The talk will be led by the four third-year game development students: Adam, Matt, Philip & Sebastian, with the context of their journey making Reaper Co: a wacky 3rd Person PS2 inspired game where you play as one of deaths lackeys assigned to kill a Hollywood Actor on the set of his latest film. The game has won both the Best Game Award and the People's Choice Award at the latest UTS Student Game Showcase and has been a passion project for all the people involved.
The four students are in their final year of studying a Bachelor of Science at the University of Technology and have made several digital and physical games individually within the past.
Adam Bursill is a passionate and capable programmer who has several notable achievements to date including, UTS IT Deans merit list 2017, and previous winner of the Student Prototype Exhibition Sep 2017. His current work has seen him develop two programs for Vivid 2018 which made the lights on the Sydney Harbour Bridge and buildings around Circular Quay interactive to the public.
Sebastian is a skilled programmer and a self-taught 3D modeller & graphic designer who has won several prizes within the past 3 years of UTS Showcases for his Data Visualisation and Role Playing Games. He has previously created serious games for academic research and is currently working on gamifying physiotherapy with Lusio Rehabilitation.
Matthew Andrews is a capable programmer and an aspiring Environmental Artist who has created level designs for a few major university projects, including a 2D platformer, 3D Random Dungeon generator tech demo as well as a 3D platformer.
Philip is an international games development student that is interested in all aspects of games development.