SEGAH'22 was an absolute success!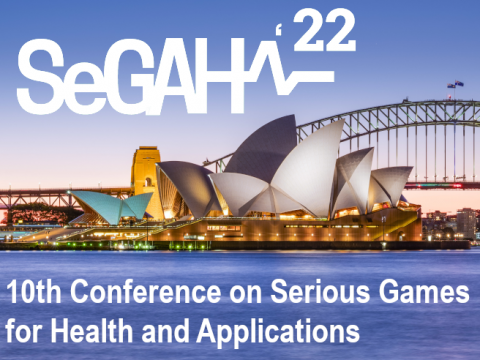 Earlier in August, the UTS Games Studio had the pleasure to host the 10th iteration of the International Conference on Serious Games and Applications for Health (SEGAH 2022).
This conference aims at creating a space for sharing knowledge, experiences, and scientific and technical results, related to state-of-the-art solutions and technologies on serious games and applications for health and healthcare.
This year, a total of 65 papers were accepted for publication, with topics ranging from Exergames and Rehabilitation, Applications for Healthcare, Game Design Education and Social, Human-Computer Interaction,  Game-Based Learning and Cognitive Games, Cognitive Behavioral Assessment, Augmented Reality, Virtual Reality and Wearable Technologies,  Game Design and Classification,  AI-related Applications, and Therapy and Training.
Contributions came from all around the globe with strong participation from academics in Australia (19%), Portugal (17%), EUA (13%), Canada (7%), Germany (6%) and India (6%).
The School of Computer Science at UTS had a strong presence this year with 6 full papers presented at the 3-day event, these were:
Assessing the capabilities of the HTC Vive as a tool to assess the risk of falling in older people, by Jaime Garcia and Juan Tenorio
Evaluation of CogWorldTravel: A Serious Game for Cognitive Screening, by Fernanda Oliveira, Jaime Garcia and Valerie Gay
Towards depression monitoring and prevention in older populations using smart wearables: Quantitative Findings, by Fiza Mughal, William Raffe, Peter Stubbs and Jaime Garcia
The effect of different sensory modalities on inattentional blindness in a virtual environment for attentional loss improvement, by Yanqiu Tian, Tien-Thong Nguyen Do, Yu-Kai Wang and Chin-Teng Lin
Remote Guided Robotics via Leap Motion and Mixed Reality, by Joshua Mendez and Yu-kai Wang
Assessing Virtual Reality's potential to influence emotional states from negative to provide an instant positive effect by Mathu Chockalingam and Avinash Singh
The organising committee would like to thank our wonderful keynote speakers for their inspirational and insightful presentations:
Dr Kathleen Yin, member of the Board of Trustees for the Games for Change Asia-Pacific Festival.
Dr. Daina Sturnieks, Senior Lecturer in Anatomy at UNSW Medicine and Conjoint Senior Research Scientist at NeuRA.
Justin Keenan, Co Founder and CEO at Lusio Technology.
Also, special thanks to Padraic Heaton and Lloyd "Elle" Ma (both Masters by Research Candidates in the UTS Games Studio) for their outstanding contributions to the event.
We look forward to seeing you all at the next version of SEGAH in Athens (Greece) next year.
Organising Committee:
Jaime Garcia & João L. Vilaça - General Chairs
YK Wang & Nuno Dias - Programme Chairs
Baki Kocaballi - Local Arrangements Chair
Eva Oliveira - Proceedings Chair
Nuno Rodrigues - Treasure Chair
Duarte Duque - Submissions Chair
Pedro Morais - Publicity Chair
More details: https://www.segah.org/2022