Outstanding Paper Award at the GET2022 Conference. Congratulations Elena & Madiha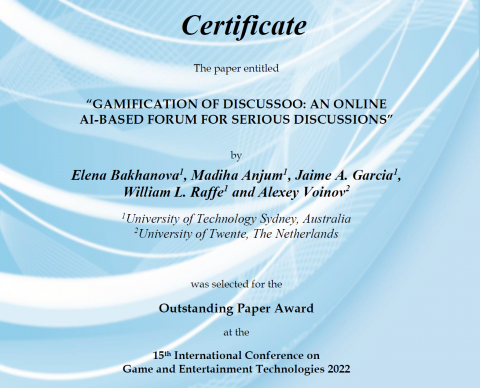 The paper "Gamification Of Discussoo: An Online Ai-Based Forum For Serious Discussions" was selected for the Outstanding Paper Award at the 15th International Conference on Game and Entertainment Technologies 2022
Congratulations to the authors: Elena Bakhanova, Madiha Anjum, Jaime A. Garcia, William L. Raffe and Alexey Voinov on this success story.
Abstract:
Engagement in the discussion process is one of the common challenges of asynchronous online forums.
It becomes especially crucial if the discussion is organized over a serious topic about a complex problem with a group of diverse stakeholders.
Gamification gives much promise in addressing this challenge.
In this paper, we propose possible game design solutions to the engagement challenge for an existing online AI-based platform Discussoo and reflect on the results from the expert interviews and experiment with students.