Lights! Camera! Assassination!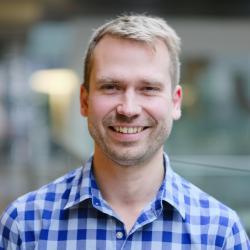 At a career crossroad, Adam Bursill's passion for programming led him to enrol in a Bachelor of Science in Games Development at UTS in 2016 and co-create an award-winning game at this year's Student Games Showcase.
In Reaper Co – A Hollowood Adventure, you play one of Death's minions on a mission: navigate a blockbuster movie set, locate a ridiculously-named star and snuff him out. A bit of a showbiz commentary, perhaps? "There's definitely no anti-Hollywood vibe," laughs Adam Bursill, who created the game with Philip Johan Aubert, Sebastian Du Toit and Matthew Andrews.
Read full article at: https://www.uts.edu.au/about/faculty-engineering-and-information-technology/news/lights-camera-assassination