IMMERSE made it into the 2019 Sydney Festival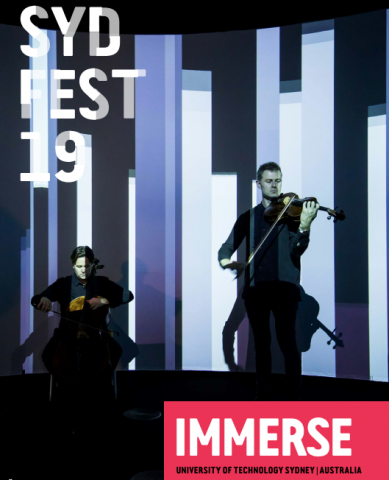 We are happy to share that the UTS Games Studio has been successful in participating in the 2019 Sydney Festival.
IMMERSE, a one-of-a-kind project, consisted of 360-degree video projections that morphed and changed in response to live performances of classical and electronic music. This new collaborative project was created for the UTS Data Arena, an interactive audiovisual space.
IMMERSE originated from the idea that all new knowledge builds on past knowledge. The music performed reflects, abstracts and contemplates works that have gone before. 
IMMERSE was a collaboration between UTS students, the staff of the UTS Data Arena; School of Software, Interaction Design; the School of Communication, Music and Sound Design; and UTS ensemble-in-residence Australia Piano Quartet (APQ). 
This project was an absolute success amongst the Sydney Festival attendees. 
Credits
Original Concept Australia Piano Quartet (Thomas Rann and James Wannan) and Dr Felicity Wilcox
Tech Lead/Project Manager Dr Jaime Garcia (Games Studio Co-Director)
Production Manager Melissa Cannon
Composer/Sound Design Lead Dr Felicity Wilcox
Composer/Spatialisation Dr Robert Sazdov
Viola James Wannan
Cello Thomas Rann
Electronic Music Performer Alexandra Spence
Visual/Interaction Designer Matthew Hughes
Sound Engineer/Programmer Martin Peploe
Software Engineer/Programmer Adam Bursil
Interaction Design Assistant Philip Johan Aubert
Special Thanks
We would like to gratefully acknowledge the support of UTS Data Arena technicians Ben Simons, Darren Lee and Mohammed Amin. Thanks also to audio engineers Zacc Wiffen and Ian Walsh, and the UTS Media Lab. 
Click here for more information about IMMERSE