FEIT Student Prototype Exhibition (Spring 2019)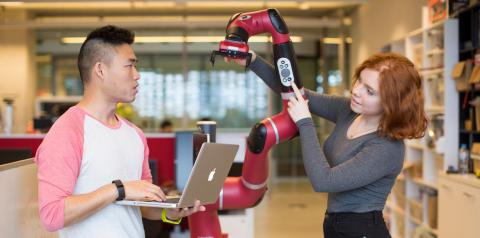 Dear Friends and Colleagues
We are very excited to announce that the FEIT Prototype Exhibition (Spring 2019) was an absolute success.
The event saw +200 guests from the UTS community (staff, students, alumni), industry partners, research partners, family, friends, and the general public.
100+ students from 10 different project-based subjects (ranging from Robotics, Mechatronics, Game Design and Development, Interactive Media, Interaction Desing, Software Development, Human-Centered Design Methods among others), presented 32 amazing prototypes that included, but were not limited to: video games, software solutions, interactive media apps, cultural kits, to name a few.
Attendees had the chance to interact with our top-performing students, see their fabulous prototypes, and more importantly, helped us judge the best student prototypes of the evening.
And the winners are...
The Best Video Game Award goes to:
Fisherman Sam (25% of the votes) and Blobby Blob (25% of the votes)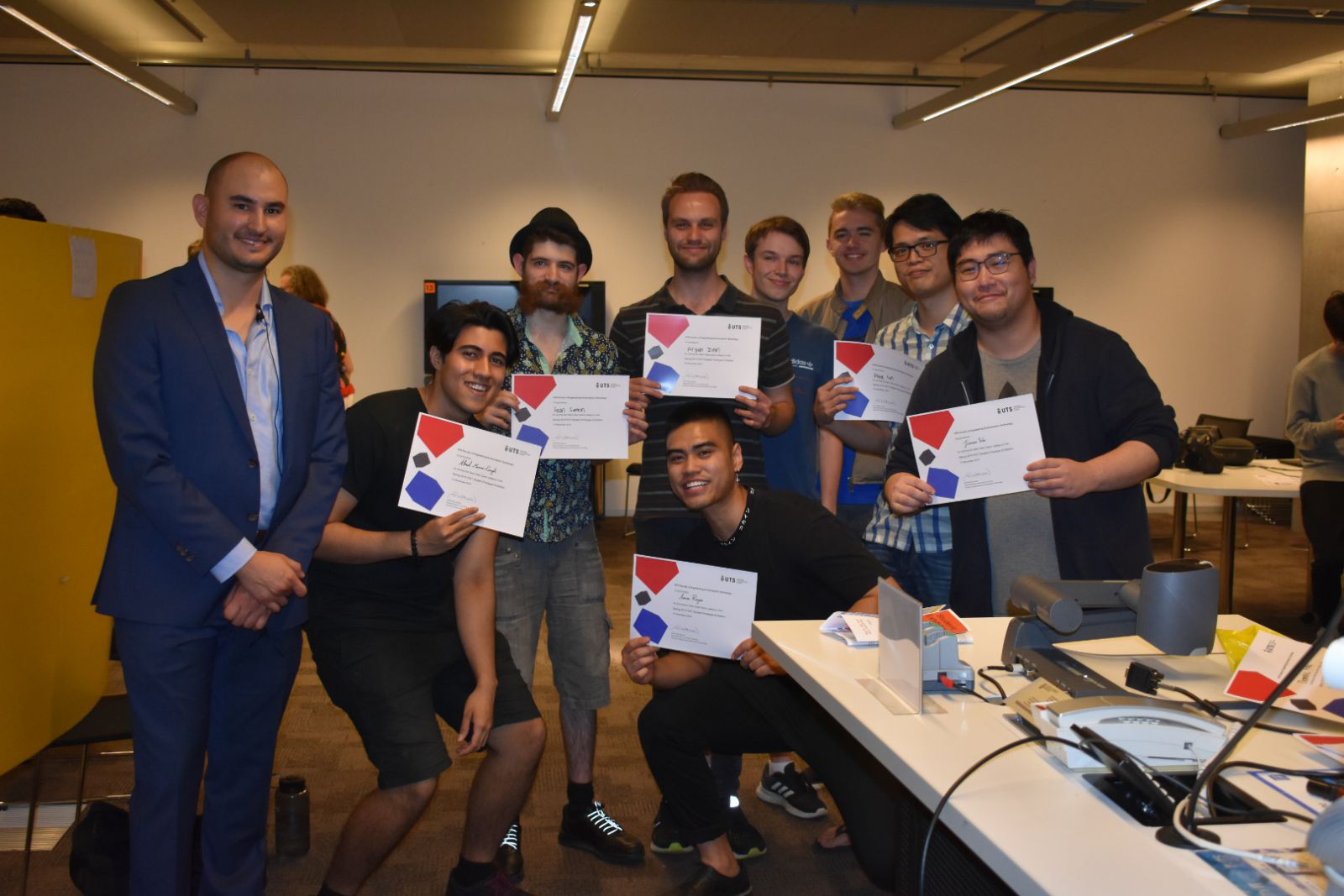 Blobby Blob was created by: Sean Simon, Aryeh Zinn, Dominic Kihas, Alex Lin, Sam Turner, and Charles Smith.
and ...
Fisherman Sam was created by: Aaron Reyes, Akashi Moana-Singh, Jianan Wu, Lucas Borg, Rosie Mcclelland, Michael Joshua, and Julian Oliver.
Subjects: Game Design Studio II (31103) and Sound Project (50823)
Subject Coordinators: Dr Jaime Garcia and Dr. Felicity Wilcox 
The Best Interactive Media Application Award goes to:
Mad Mama (23.9% of the votes)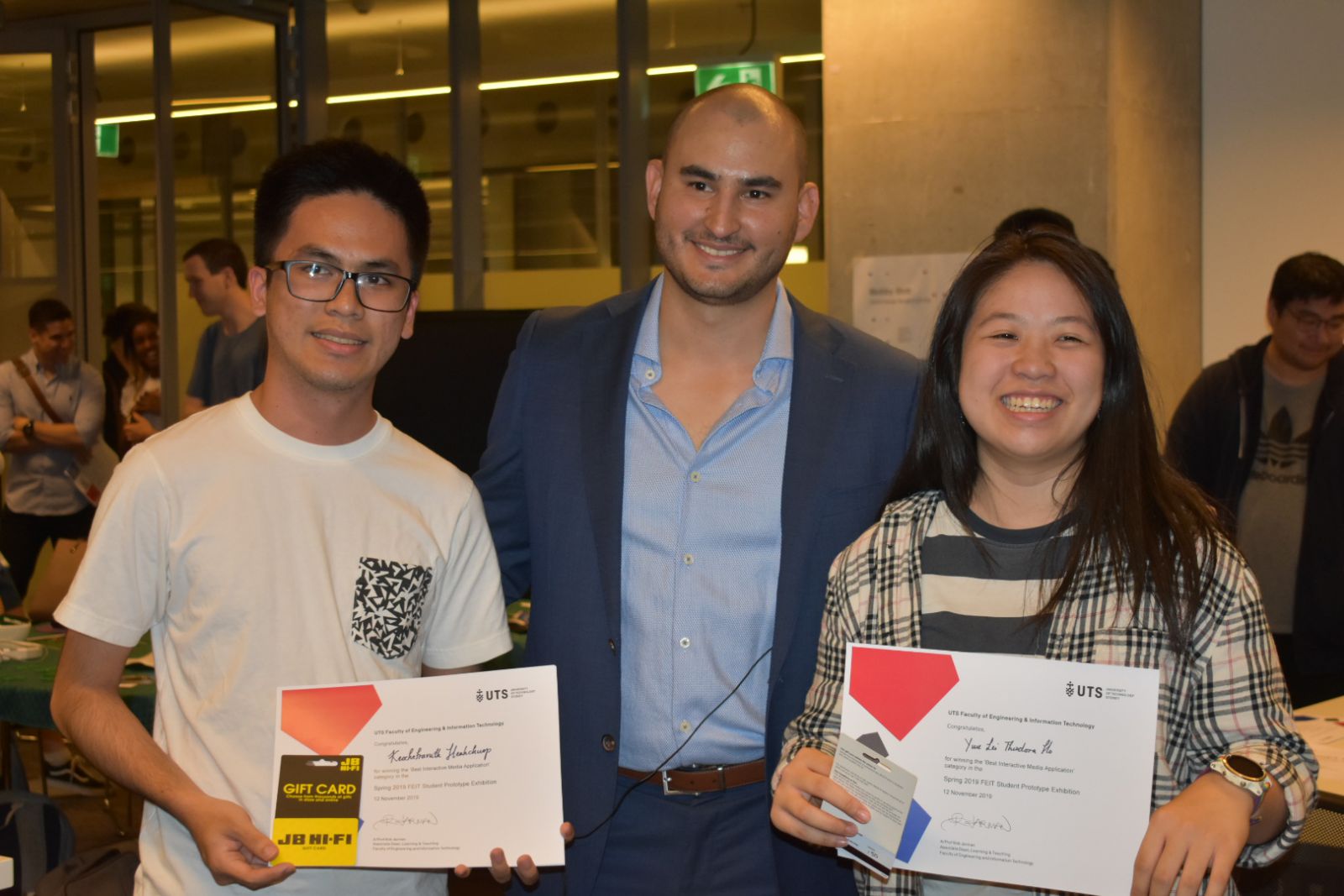 Created by: Keochetravuth HEANCHUOP, Yue Lei Theodora HO, Wenjie JIANG, Kwun Wai WONG, and Xuechun WANG.
Subject: Interactive Media (31080/32027)
Subject Coordinator: Dr. Jaime Garcia
The Best Physical Prototype Award goes to:
Leak testing of water-filled barriers (30% of the votes)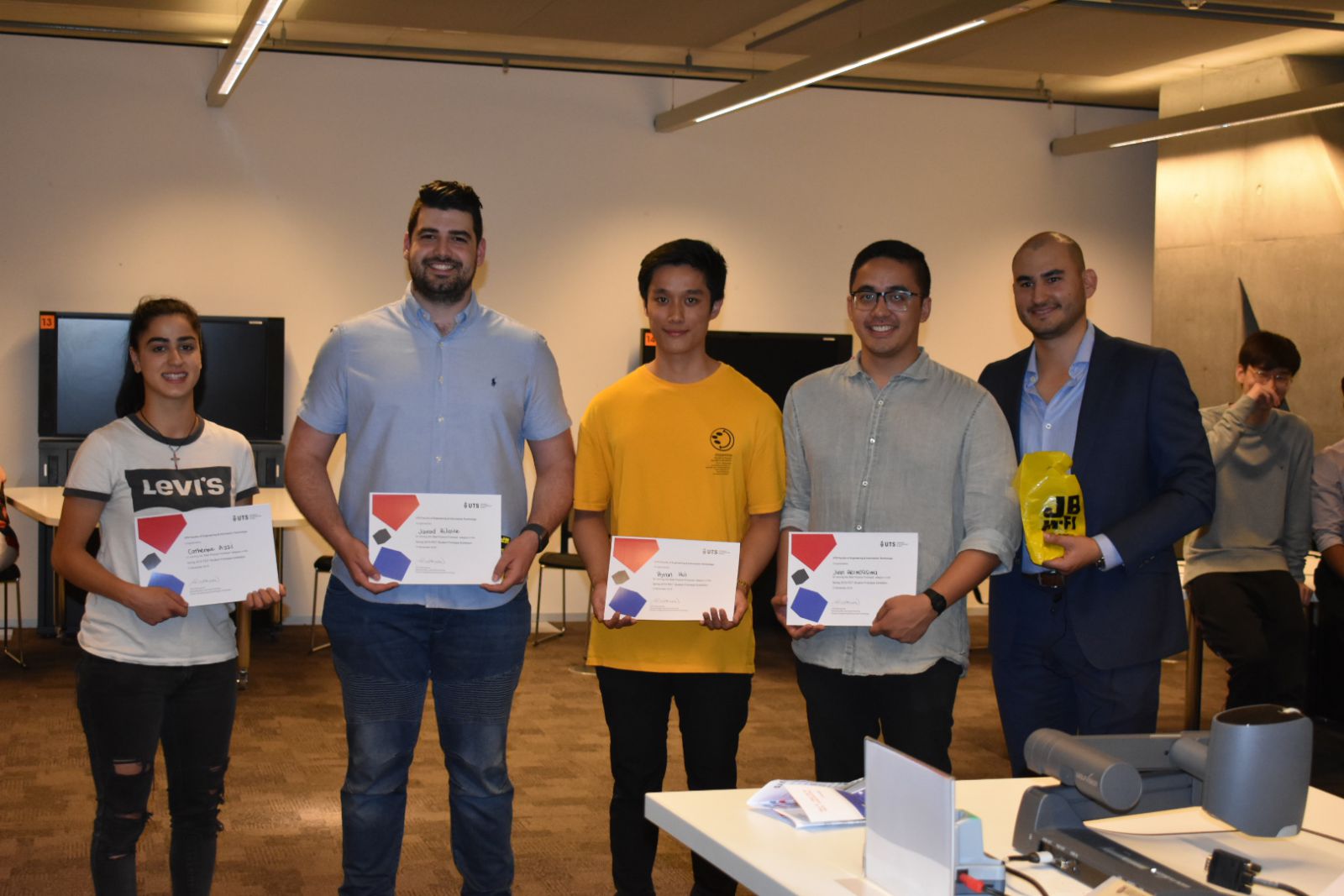 Created by: Byron Hui, Juan Hermosisima, Catherine Azzi, Michael Reyes Jr, Jarrod Hilaire, and Laurentius Mualim.
Subject: Mechanical and Mechatronic Design (48670)
Subject Coordinator: Dr. Marc Carmichael
The Best Human-Centered Design Exhibit goes to:
Memory cues: Influence of music on memory and emotions (25.6% of the votes)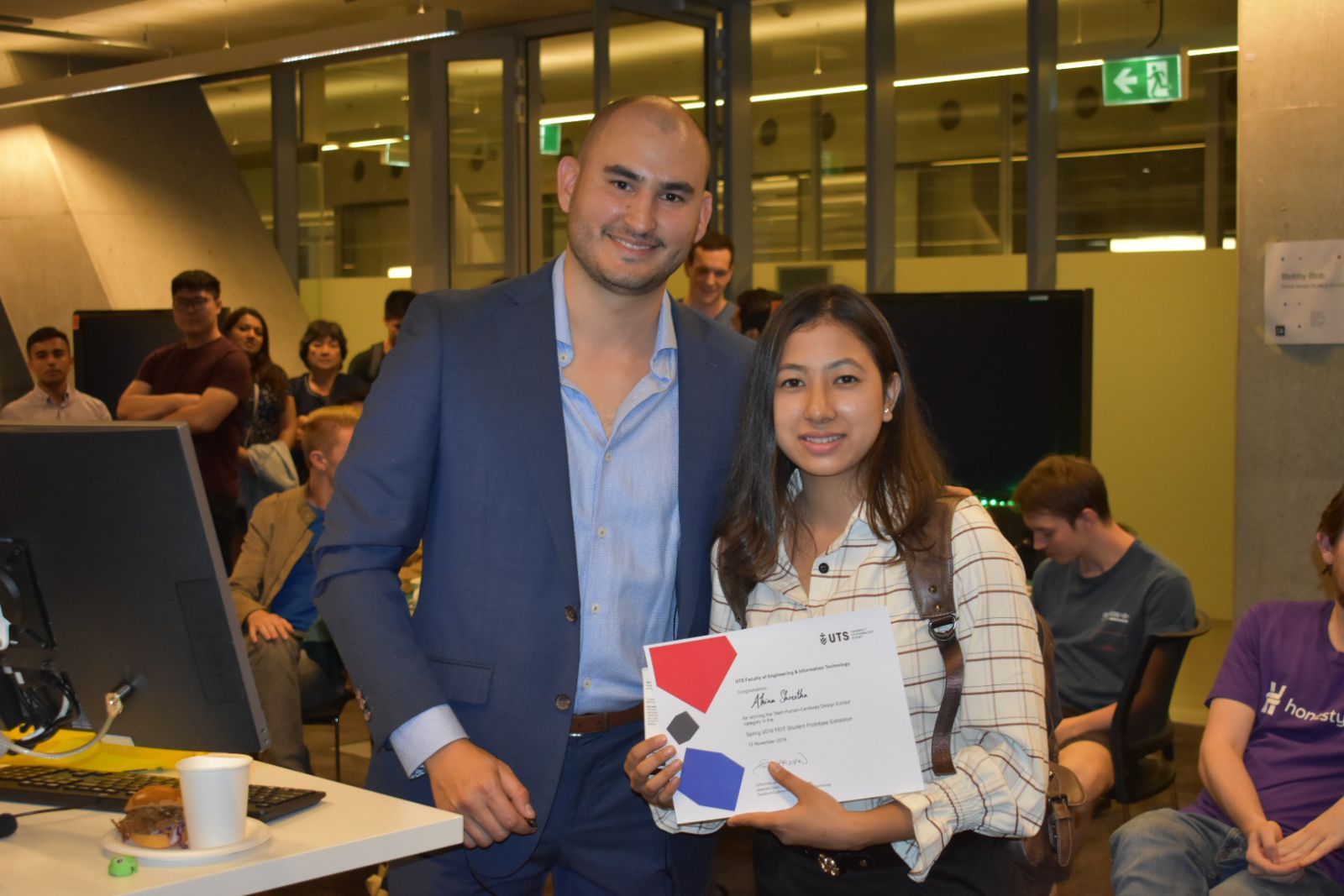 Created by: Akina SHRESTHA.
Subject: Human-Centred Design Methods (32405)
Subject Coordinator: Prof. Elise van de Hoven
The Best Software Solution Award goes to:
JALAPENO (30.2% of the votes)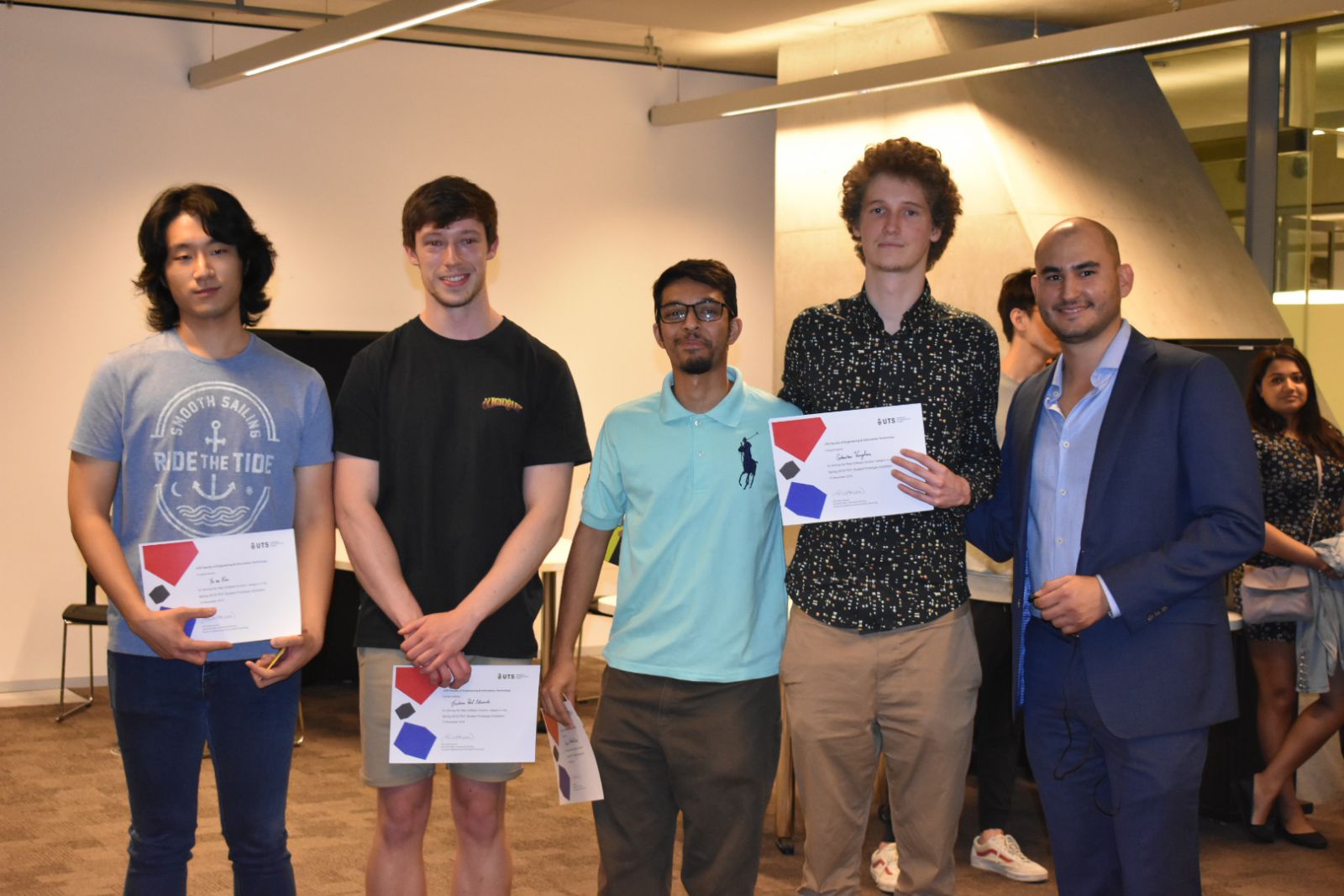 Created by: Nameer Abdullah SHAMS, Jackson Paul EDWARDS, Yu En KIM, Sebastian VAUGHAN, and Kevin ZHUANG.
Subject: Software Development Studio
Subject Coodinator: Dr. Julia Prior
Big Thanks to:
All the subject coordinators that helped us find the best talents from their classes: Dr. Sam Ferguson, Dr. Julia Prior, Dr. William Raffe, Prof. Elise van den Hoven, Dr. Benjamin Johnston, Dr. Marc Carmichael, and Dr. Tim Chen.
Joli Price, Victoria Phantharangsi for sponsoring the event.
Natassja Sundara, Gráinne Murphy, Claire Hanna for all the marketing material and helping us promote the event.
About the event:
Each semester, the Faculty of Engineering and IT hosts a Student Prototype Exhibition. This event aims at celebrating students' successes and recognising outstanding work. This exhibition compiles the best student prototypes from all the project-based subjects in our faculty. This is an opportunity for the general public to come and talk to our top students and see their work in a low-pressure context.
If you would like your students/subject to be involved in future Prototype Exhibitions, please contact Dr. Jaime Garcia