FEIT Spring Prototype Exhibition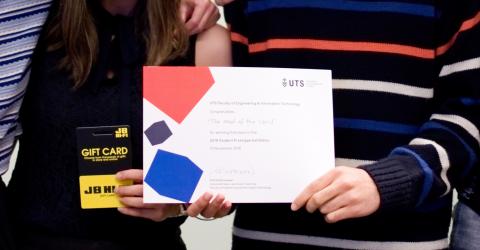 The UTS Faculty of Engineering and IT (FEIT) Spring Prototype Exhibition was held on the 15th of November and saw 36 high achieving student groups proudly present their work.
The Exhibition provided a public forum where students, from a variety of undergraduate subjects (mostly in IT), could present their high-quality work, celebrate the end of the year, and gain feedback from fellow students, staff, and external guests.  Key guests from the local games industry and research community all commented on the exceptionally high quality of the projects being shown across all subjects.
The Prototype Exhibition represents a key way in which students can be publicly recognised beyond the classroom by peers, staff and industry.  If you would like your students/subject to be involved in future Prototype Exhibitions, please reach out to William Raffe. 
The winners this year were:
Judge's Award - First Place
Title: The Mood of the World
Subject: 31080 Interactive Media
Students: Freya Gerup Helstrup, Simran Singh Bagga, Laurence Presland, Samantha Go, and Alejandro Munoz
Judge's Award - Second Place
Title: Paradise GATES Farm
Subject: 31103 Game Design Studio 2
Students: James McEwan, Aaron Chetcuti, Alex Au, and Sebastian Du Toit
See the game!
People's Choice Award
Title: Left Behind
Subject: 31103 Game Design Studio 2
Students: Natassja Sundara, Adam Bursill, John Vitale, and Feng Zhao Truong
See the game!